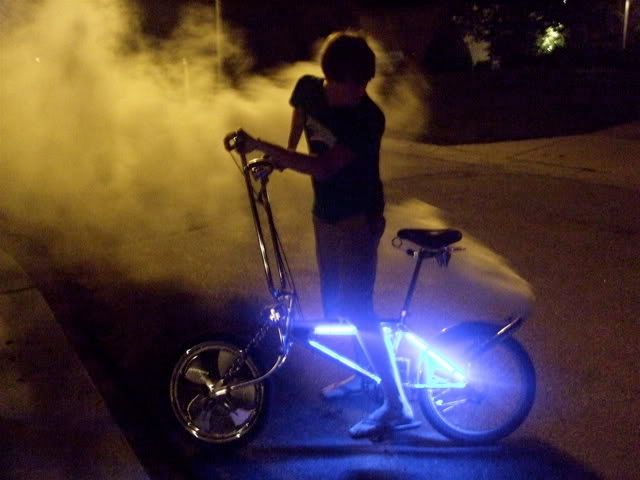 Oh, almost forgot. Spinners too.
Jay's Dragon Bike was a big hit at last night's Bike Culture Night and will be on tonight's New Year's Cruise. Unfortunately Jay was out of town at a race last night, but was cool enough to let me borrow the Dragon. On the way to the event, walking down Valencia with the Dragon, all the eyes were following us from various restaurants and cafes. It made it easy to hand out flyers for the event.
On our way to return the Dragon Bike to Jay's garage after the event, Mafi and I headed down Lexington St., where this time of year, they have beautiful lights and decorations. We stopped under the disco ball to show off some of the sweet details of Jay's new Dragon Bike .
Jay's only been riding the new dragon bike for a few days now, and I had the pleasure of cruising with him last night as we dropped off some homemade apple pie (a la mode, of course) from our pot luck dinner to a friend who was tending bar at the Lone Palm on the other side of the Mission.
The Dragon bike is one of three art bikes that will be on display at the Dec. 14th Bike Culture Night at The Rev.
What I love about Jay's art bikes is the degree to which he throws the rules out the window and follows his own direction.
The red paint job on the new dragon is still pristine and glossy. The Sweetskinz tires still have the little furry rubber hairs everywhere.
Jay is the second frame builder / customizer to my knowledge who has modified a frame for the Down Low Glow.
The Dragon Bike also has a couple of very trick mechanical features. The eyes (which are blue LED headlights) move left and right when the handlebars move (click the You Tube video to see). And the jaw bites when you squeeze the left brake.
Jay was also careful to follow Chinese tradition — the Dragon holds a pearl in its left claw.
See more close up images and video on the Dragon Bike.